Factory Equipped AM Stereo Car Radios

Many people's first experiences with AM Stereo have been from buying an automobile and then discovering it to have an AM Stereo capable radio in the dashboard. The following car manufacturers have equipped their vehicles with AM Stereo radios as either standard or optional equipment.
Acura - Many Acura cars came equipped with AM Stereo radios from the mid 1980s through the early 1990s. This was especially popular on premium level radios, such as the CQ-LH668A model, which was manufactured by Panasonic Another known Acura factory radio with AM Stereo is the CQ-LH678A model. Some of these radios may have been labelled as "Technics", which is Panasonic's premium audio brand.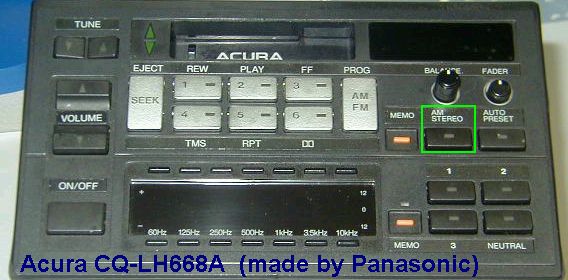 American Motors Corporation (AMC, Jeep, Eagle) - At the very end of AMC's life, circa 1985 - 1987, some of their radios with digital tuning had AM Stereo capability.
Audi - Some of Audi's car radios in the mid to late 1980s were equipped with AM Stereo, especially in Canada. One known AM Stereo model is the X 034 300 D, only available in Canada, with fully digital controls and auto-reverse cassette player.


BMW - The 1992 BMW radio shown below supports C-Quam AM Stereo as well as NOAA Weather band. Other years and models of BMW car radios may have AM Stereo as well.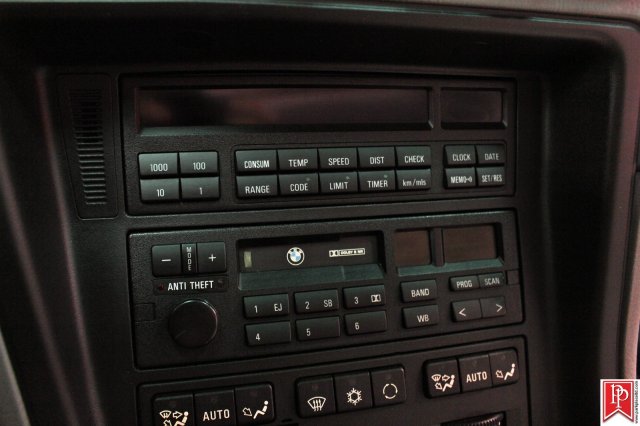 Chrysler Corporation (Chrysler, Dodge, Plymouth, Jeep, Eagle) - One of the leading makers of AM Stereo car radios, from 1985 to today. All full-size Chrysler radios with digital tuning from the 1985 to early 1992 model years were equipped with AM Stereo capability; some even had a manual "AM ST" on/off switch. Unfortunately, late 1992 and 1993 models were not equipped with AM Stereo. Thankfully, AM Stereo reappeared in the premium-level stereo systems of 1994 models. From 1994 to about 1999, all Chrysler radios with 5-band graphic equalizer and speaker "joystick" control have AMAX-compliant AM Stereo with excellent quality, including Infinity and Infinity Gold premium stereo systems. More recently, the popular "RAZ" CD/cassette combination model has AM Stereo. This continues to be the case through the 2002 models.
The following Chrysler Corporation radios are known to have AM Stereo capability (Chrysler radios are referred to by either model numbers or model letter codes):
4311686 (silver faceplate with cassette, 1985 only; 1983-1984 models look the same but don't have AM Stereo)

4469075 (radio only, 1986-1992)

4469320 ("Infinity" radio/cassette)

1996 Jeep Cherokee half-height (standard DIN size) radio with AM Stereo

"RAZ" (CD/cassette combo, square or rounded faceplate)

"RBN" (cassette with 5-band graphic equalizer and speaker "joystick")

"RBR" (CD with 3-band graphic equalizer and speaker "joystick")

4469106 (with cassette), 4311102, 4311103, 4311687, 4311827, 4311828, "RAL", "RAN", "RAY", etc.

---