Hand-Made AM STEREO Radios & AM STEREO Decoders
---
So, you want an AM STEREO radio do you? Well, look no further. Check these out...
---
DIY
As you can see from the below picture, The Chris Cuff AM STEREO / FM STEREO Personal Radio is finally becoming a reality!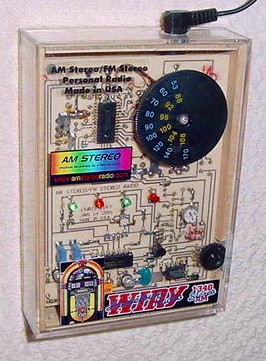 This unit has a unique cabinet made of wood and see-through plastic and can include a custom design to reflect your favorite radio station's logo. (A great promotion item, don't you think?) These particular radios are made in the USA , run off 4 AAA batteries and are currently in production and will soon be available soon to any and all interested parties. If you'd like any further information on this latest custom made AM STEREO radio, please contact Chris Cuff directly at amstereoguy@hotmail.com
---
AM STEREO Capable Car Radio
Pictured below is the Blaupunkt Sydney, which is the latest offering by Chris Cuff to the world of aftermarket automotive AM STEREO units.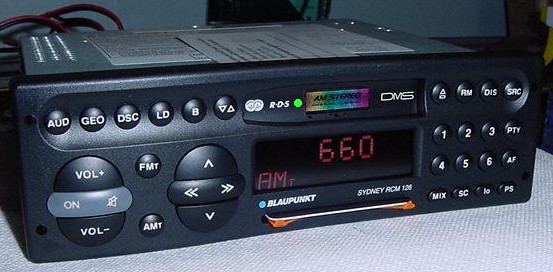 This is a high quality, German-built car stereo packed with the following features:
AM STEREO/FM STEREO with RDS
High quality auto-reverse cassette
Inputs for auxiliary 10 CD changer
Variable Color Display (customizable from green to yellow to orange to red)
Microchip embedded "Credit Card" security system. (By removing the card, the radio becomes disabled providing anti-theft security.)
Preamp output for extra amplifier hookup
Line input for an external source such as a MD player or MP3 player
Note: The above unit is not available anywhere else but from Chris Cuff. The selling price is $199.00 US. If you're interested in obtaining one of these units, please contact Chris directly at amstereoguy@hotmail.com with any questions you may have.
---
"Small" AM STEREO Radio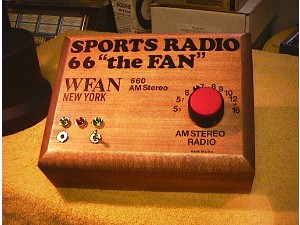 Hand-Built in the USA
Hand-Finished Pine Cabinet
Dimensions: 6" X 4 3/4" X 2" (15.24cm X 12.065 cm X 5.08 cm)
Includes 1/4" or 1/8" output jack (your choice) for use with headphones and RCA line-level output jacks for use as a home tuner
Red LED STEREO Indicator
2 Green LED's which indicate signal strength and assist in accurate tuning
Runs on 8 AA batteries
Lettering shown can be customized for your favorite AM STEREO station or cabinet may be left plain
---
"Large" AM STEREO Radio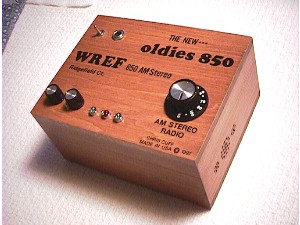 This unit possesses all the features as listed above for the "small" model, plus...
1 watt per channel HQ amplifier and self-contained speakers
Includes AC adaptor
Dimensions: 6 1/2" X 4 3/4" X 3 1/2" (16.51cm X 12.065 cm X 8.89 cm)
By the way, the above two hand made radios make great gift ideas for that AM STEREO Fanatic in your life as well as excellent promotional items for your AM STEREO station.
---
New AM STEREO Goodies
Speaking of Chris Cuff's AM STEREO projects, here's a couple of the latest ones he's been working on:
Pictured above is what Chris has cooked up for another promotional idea for your radio station. It is none other than a custom-designed see-through AM STEREO radio featuring your station's logo. (In the above photo, this is demonstrated by the use of Ridgefield, CT's Oldies 850 WREF logo.) These radios are designed to appeal to the younger crowd and operate with headphones and use 2 AAA batteries. They are also available with as "fixed frequency" units, so that your station is the only one that is tuned in at all times. They can also be made with a plain clear case if so desired.
For more information on any of the above radios, please contact Chris at amstereoguy@hotmail.com
---
The DeWALD "AM STEREO" Radio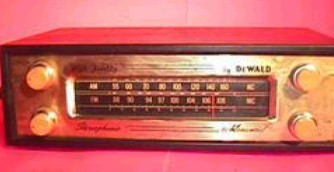 You're probably thinking, "Huh? How can a radio that old have AM STEREO capability?" Well, the cool thing about this little baby is that during the industry talks about AM STEREO and FM STEREO in the late 1950's, some manufacturers were indeed getting ready for the technology of AM STEREO broadcasting. This is clearly seen in the below picture of the above DeWALD tuner from 1959 which was indeed equipped with clearly labelled AM STEREO output jacks.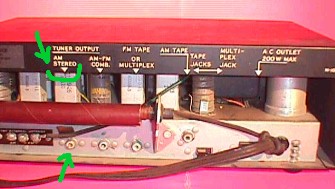 ---
The MetroSound AMS 400 AM STEREO Converter
Shown below are two pictures of the MetroSound AMS 400 AM STEREO converter. These units were manufactured in 1985 (and only in this year) by MetroSound and use the exact same IC as the coveted SONY SRF-A100, but have the added benefit of having an inductive slug-tuned car tuner front end.
The result? Absolutely spectacular AM STEREO reception! In fact, it's like combining the SONY SRF-A100 and the GM/Delco AM STEREO car tuner all in one. Take a look:
Features:
Receives and decodes all AM STEREO broadcast systems (Motorola C-QUAM, Kahn, Harris and Magnavox). (A moot point now, but extremely rare and interesting from a collector's viewpoint.)
Night illumination
Easy connection to any FM STEREO car or home tuner
Line Out jacks and 12 volt adapter included for home use
Analog tuning
LED tuning indicator
Mounting car bracket included
Specifications:
Frequency Cover Range: 540-1680 KHz (can tune to 1710 KHz with a minor adjustment)
IF Frequency: 450 KHz
Sensitivity at 20 dB S/N: better than 60uv
Signal to Noise Ratio: better than 45 dB
Image Rejection Ratio: better than 55 dB
Output Frequency: 99.1 MHz +/- 2 MHz
Output Level: 10mVrms
Power Source: DC14V (Negative Ground)
Current Drain: 200mA
Semiconductors: 4-IC's, 9-TR's, 5-DI's, 1-LED
Dimensions: 6" (150mm) W x 1" (25mm) H x 4-1/2"(115mm) L
Weight: 21 ounces
Basically, the MetroSound AMS 400 is a full AM STEREO tuner with a built-in FM STEREO transmitter that re-broadcasts the AM STEREO signal being received in stereo at 99.1 FM. (Again, please note that these units will only tune the EB up to 1680 KHz.) These units are all brand new in the original box (never opened, never used), come complete with the owner's manual and have an affordable selling price of $48.00 US. You can see how truly small they are by the soup can used as a reference in the above photos. Needless to say, I got one of these immediately and I must say I'm extremely pleased with their performance.
For instructions on how to modify the MetroSound AMS 400 to achieve maximum performance, as well as instructions on how to construct a simple, yet highly effective antenna to turn the MetroSound (or any radio) into a DX machine, please click here.
Note: Unfortunately, these units are no longer available from Chris Cuff. He did have a number of them in stock, but his inventory was depleted rather quickly due to demand. He has stated that he may be able to obtain more, so if you're seriously interested in obtaining one, please contact Chris at amstereoguy@hotmail.com and hopefully in no time flat you'll be experiencing the wonderful sound of AM STEREO too!
---
AM STEREO DECODERS
---
"The Chris Cuff Original"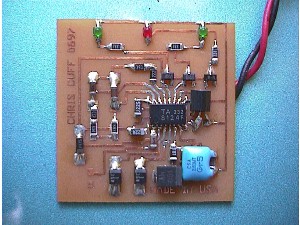 Hand-Built in the USA
Surface-Mount Technology
Approximately 1.5" by 1.5" (35mm by 35mm)
Compatible with either 450 or 455 kHz IF frequencies
Specially designed for "shoehorn fits" for either car radios or portables
Several other different model decoders available depending on what type of radio you wish to convert
"The Chris Cuff Mini"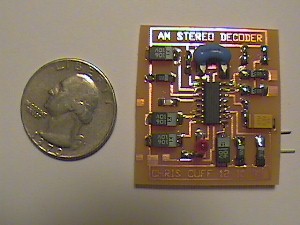 Hand-Built in the USA
Surface-Mount Technology
Very Small Design
New Lower Cost
Features the Motorola MC13028 C-QUAM Decoder Chip
Works from 3 to 12 volts
Excellent performance
Please e-mail Chris Cuff for more detailed info and pricing if you are interested in obtaining any of the above products. If you want to convert your present AM mono radio to AM STEREO, but do not wish to "do-it-yourself", Chris would gladly do this for you. (You would have to work the details out with him.)
---
AM STEREO CONVERSIONS
---
One of Chris' sucessful conversions has been that of a Philips FW-62 bookshelf system to receive AM STEREO broadcasts. (See picture below.)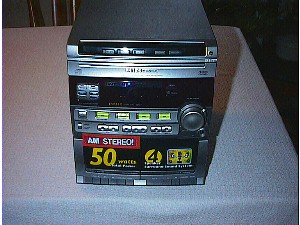 These particular units are easier to convert than AIWA units. As well, all silver-faced Philips units have "the place on the board" to allow them to be converted to AM STEREO. They also have no ceramic filters in them, but rather two stages of AM IF amplification which use transformers instead. As a result, this allows for wider bandwidth and hence, superior sound. The below picture shows "the place on the (Philips) board" where Chris' AM STEREO decoder can be inserted.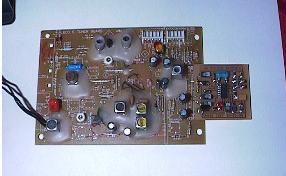 ---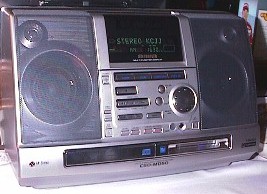 Above is a picture of the new AIWA CSD-MD50 Bookshelf system. This is one of the latest AM STEREO conversion projects of Chris Cuff. Check out the features on this smokin' little unit:
AM STEREO/FM STEREO digital PLL tuner
Mini Disc record and playback
CD Player with motorized loading
Cassette Player/Recorder
Unique wedge design with Virtual Surround Sound capability
Fluorescent display
Full remote control capability
The ability to not only label and display your Mini Disc tracks, but also your favorite radio stations too (e.g., "1630 KCJJ AM STEREO")
Note: Neither of the above units come with AM STEREO as a standard feature, but they can be converted to receive such broadcasts if you so desire. (And why wouldn't you?) If you would like some additional info on either of the above units/conversions, please e-mail your inquiries to Chris at amstereoguy@hotmail.com
---
The Evolution of The Motorola C-QUAM AM STEREO Decoder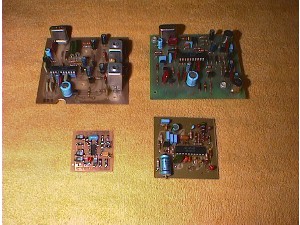 The above photo shows the evolution of The Motorola C-QUAM AM STEREO Decoder.
Top Left: "The Original"; made by Motorola in January 1983; Model SD1.
Top Right: About 3 months later, the Model SD2 came along from Motorola. These particular decoders were given to those AM stations that agreed to sign on with the C-QUAM system so that station engineers could convert their monitors accordingly. For those wondering, both the SD1 and SD2 use the Motorola MC13020 decoder chip.
Bottom Right: - The third generation C-QUAM decoder; produced in January 1984 and built as a kit that was featured in the article Build This C-QUAM AM STEREO Converter by Marty Bergen in the January 1984 issue of Radio-Electronics magazine.
Bottom Left: Shown for reference, this is the newest decoder built by Chris Cuff based on the Motorola MC13028 decoder chip design.
Note: Chris would like to send a huge thanks to Ed Mielke of 760 WJR AM STEREO in Detroit, Michigan for providing him with both the SD1 and SD2 Motorola C-QUAM decoders so he could build those two particular decoder boards.
---
The Sony Experimental Four System AM STEREO Decoder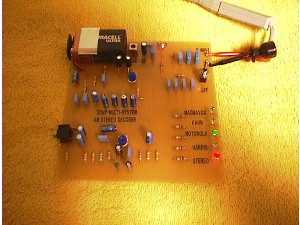 The above photo shows the the Sony experimental four system AM STEREO decoder, which used separate LED's for indicating stereo reception, as well as automatic detection of which system (Motorola C-QUAM, Kahn, Harris or Magnavox) was being received. This particular decoder uses surface-mounted device IC's, mounted underside, and feature the CX857 synchronous AM STEREO decoder IC (which was used in the SRF-A100) plus the experimental CX20177 multi-format indicator/automatic switching IC which allowed for detection of what system you had tuned in. It also provided the proper de-matrixing of the audio from L+R and L-R to normal left and right. Interestingly, the CX20177 was never put into production.
Note: Chris would like to give a big thanks to Dom Senna for providing the IC's so he could build this experimental decoder board.
---
Low Power AM STEREO Exciters/Transmitters
Finally, do you want to put your very own AM STEREO station on the air? (Well, at least for reception in your own home?) Based on the design of The Alfredo Torrejon C-QUAM Exciter/Transmitter, Chris Cuff has gone about plating a circuit board for what has come to be known as The Alfredo Special "Lite" C-QUAM Exciter/Transmitter: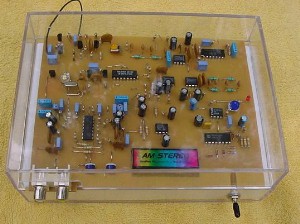 This is a nearly pocket-sized battery-operated unit (uses 6 AA cells) and contains the audio input/matrix, the RF stage, pilot generator and oscillator, but has no NRSC filters, limiters or other frills. (These have been used at several Hamfests by Chris and the response to the sound has been great.) These are fixed frequency units, and are available for use on either either 1000 KHz or 1250 KHz. (If you're technically inclined, you may choose to broadcast on any frequency on the AM band that you so desire by changing the crystal in the transmitter yourself. Just remember that the broadcast frequency is 4 times the oscillator; for instance, a 4 meg crystal will broadcast on 1000 KHz, etc.) This unit comes fully assembled and tested and is ready to be put to use right away. The selling price is $100.00 US.
Very Important Notes:
This unit is low, legal power. Amplifiers are not provided, nor will they be.
Kits of all IC's and a plated boards for the Lite version are not available.
For more information on the above unit, please contact Chris at amstereoguy@hotmail.com